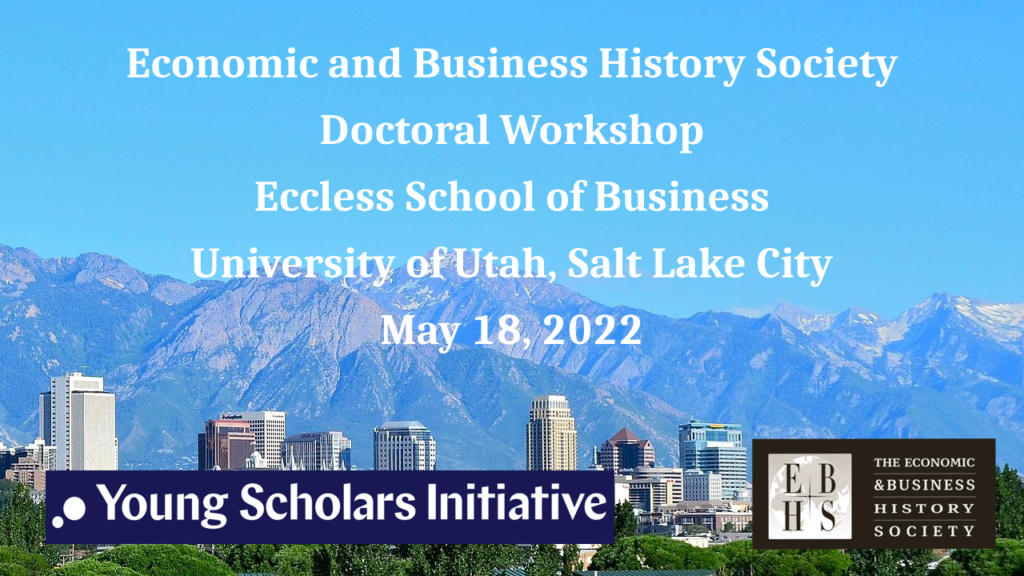 With generous financial support from the Young Scholars Initiative, the Economic and Business History Society (EBHS) will hold a doctoral workshop on Wednesday 18 May at the Eccles School of Business, University of Utah for up to 8 doctoral students from North America.
The workshop will include:
Paper development presentations by doctoral students with feedback and discussion
A workshop on academic publishing
A panel discussion and guide to the academic job-market in economic and business history
If selected for participation, doctoral students will receive:
Financial Support for travel to and from Salt Lake City
Accommodation for Tuesday 17 May and Wednesday 18 May
Free registration and automatic paper acceptance for the EBHS conference (19-21 May 2022)
Applications to attend the workshop can be made any doctoral student who is undertaking a PhD in the fields of business history and economic history, broadly conceived. This includes management history, financial history, labour history, social history, the history of capitalism, as well as business history and economic history. The EBHS is committed to diversity and inclusion, and so especially encourages applications from doctoral students from under-represented groups.
Applications should be received no later than 18 March 2022. Late submissions will not be considered. Applications will be considered by a panel appointed by the EBHS. Your application will be confidential.
Timeline and key dates
Deadline for submissions: Friday 18 March 2022
Notification of outcome of applications: Friday 25 March 2022
Deadline for submission of draft working paper: Friday 15 April 2022
Date of Workshop: Wednesday 18 May 2022
You can apply by filling out the application form here.
Please send any queries to: Dr Simon Mollan at the following email address: simon.mollan@york.ac.uk
Tags:
conferences
,
doctoral workshop
,
YSI